Sport Coach Development 
If you are a National or State, Sport or Coaches Association and currently provide your members with Sport Coach Development, ensure you complement your technical program by supporting Coaches on the people side of sport.
Sport Coach Development
The most significant contributor to consistent, high performance is not what most people assume. But you know that all of the research points to the same conclusion: technical and physical ability is never the defining factor in top performance. Getting the people side right is what differentiates the best from the rest.
When Coaches get it WRONG:
'Poor communication' was the leading cause of burnout in high-level teenage athletes (Sociology of Sport Journal).

42% of student athletes would not consider a future in college athletics because of the poor relationship with the Coach (NCAA Study).

232 principals reported 104 Coaches were dismissed, primarily for poor relationships with athletes (Journal of PE).
When Coaches get it RIGHT:

The 2008 Olympic Study showed the two leading factors to top performances were a strong Coach-athlete relationships and a high level of athlete self-awareness.

Bloom & Salmela's research identified the characteristics of expert team Coaches included persistent quest for growth and learning; effective communication; developing a personal coaching style; and good teaching ability.
What's Most Important in Coaching?
Develop the vital 'people skills' in your Coaches that will differentiate them in the competitive employment market that is elite sport.
At Athlete Assessments we have worked with more than 30,000 individuals in sports organizations including Coaches, athletes, and sports administrators. This work has spanned over 40 different sports and several countries. We are the experts on the people side of sport. Our expertise specifically focuses on an area that has tremendous impact on sporting results and effective sports management.
How well the 'people side' of sport is handled directly impacts whether the team wins or loses, whether people are loyal to the program or leave, and overall how much people enjoy their sport. 
Technical or physical ability is rarely the defining factor in top performance, always it is managing the people side of sport.
Download Coach Development
Program Brochure Today!

Discover all you need to know about Athlete Assessments' Sport Coach Development Program today.
Get Started Today
We guarantee that this will be the most impactful initiative you've ever taken to improve your Sport Coach Development program.
At Athlete Assessments, we want to provide you with exceptional service. Our clients use our Coach Development Programs in a variety of different ways, so to give you the best experience, we aim to only provide you with information that is most relevant to you. Please fill out the form below and one of our consultants will get back to you within 48 hours to discuss your specific needs. Or, you are more than welcome to give us a call now.

We do our best to respond within 48 hours at the very latest.
Bold fields with Asterisks (*) require completion.
We respect your privacy. Your details will not be used in any way other than a quick call or email to see how we can be of assistance with your online requirements.
Case Studies of Sport Coach Development Programs
We could spend money on flashy advertising but we know as well as you do that honest feedback directly from clients is the most reliable and credible way to gauge how good a product or service really is. Below is feedback from Sport Coach Development Programs who have used Athlete Assessments' DISC Profiles, our specialized services, workshops or courses.
Cumberlands' Commitment to Coach Development – The University of the Cumberlands is committed to the all-round development of its student-athletes. A team from within the University designed and deliver a professional development workshop for 36 of its coaches.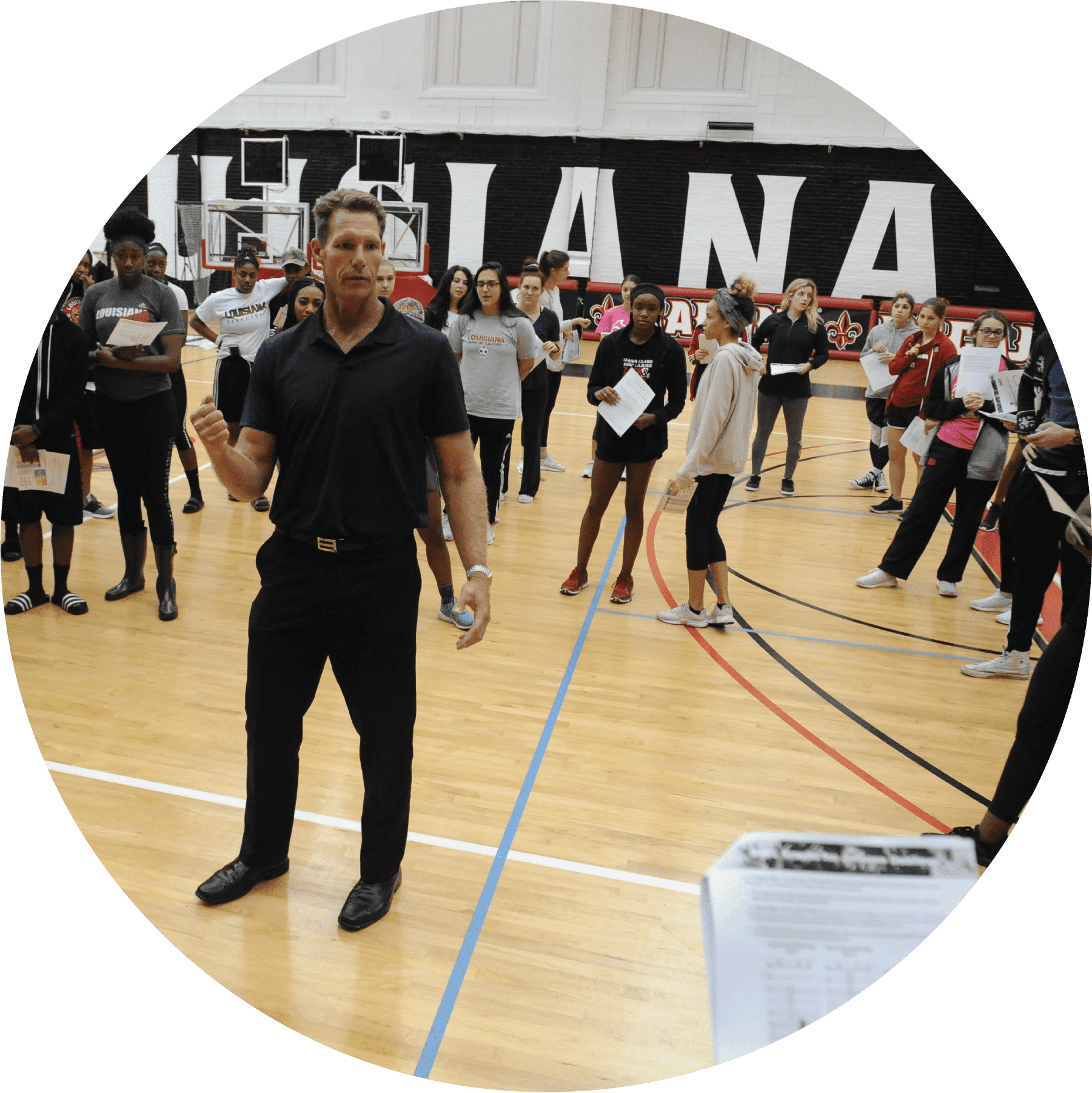 University of Louisiana Athletics Leading the Way – Bo Hanson of Athlete Assessments travelled to Lafayette to work with the University of Louisiana's student-athletes, coaches and athletic administrators to further develop their communication, leadership and teamwork skills.
NCAA Women Coaches Academy – The NCAA Women Coaches Academy (WCA) celebrated its 30th program in 2013, and continues to be the most respected and sought after coach development program available to female coaches in the United States.
Lawrie Woodman: AFL Coaching Development Manager – The AFL facilitates a vast array of courses including the High Performance Coaching Course at the elite end of their accreditation program. This article features insights from AFL Coaching Development Manager, Lawrie Woodman.
Rob Sherman: FFA Head of Coach Education – The Pro-Diploma course run by the Football Federation Australia focuses on the Performance Phase building block. This article features insights from FFA Head of Coach Education, Rob Sherman.
Dylan Hides: NRL Coach Education Coordinator – The NRL High Performance Coach (HPC) Course has been tailor-made to ensure that current and prospective elite Coaches meet these challenging expectations. This article features insights from the NRL Coach Education Coordinator Dylan Hides.
Matthew Wilkie: ARU Coaching Pathway Services Manager – The ARU high performance coaching course includes live-in camps, with specific and broad learning modules, and rigorous assessment. This article features insights from ARU Coaching Pathway Services Manager, Matthew Wilkie.
Wayne Grant: TFA High Performance Manager – The Touch Football program is a combination of traditional coach professional development, together with DISC Profiling of the three national elite teams. This article features insights from the TFA High Performance Manager, Wayne Grant.
Mentoring in Referee Development – Many programs, despite the best of intentions, struggle to reap the rewards of mentoring. However, setting itself apart is the mentor-based scholarships offered by the Australian Sports Commission (ASC) to prominent up-and-coming referees and sporting officials.
Five 'Football' High Performance Coach Development Programs – The quality of Coaches determines the quality of the game, engagement of players and ultimately success. These five Football Codes take Coach development seriously and invest in Coach accreditation and continued professional development.
Learn More
Our People+Sport Magazine recently had an issue dedicated to Education and Professional Development. You might like to flick through the magazine below to read about others' Coach Development Programs. You can also read other editions of People+Sport Magazine available online here.
Download People+Sport:
Education and Professional Development Edition Today!
For a limited time you can download your own free copy now.
At Athlete Assessments, we're here to provide you with excellence in service and to help you be your best. If there is anything we can assist you with, please Contact Us.