Congratulations to the USA Men's Curling historical Gold Medal at the 2018 Winter Olympics
By Mim Haigh, Sports Writer – Athlete Assessments
It is exciting to win. It is exciting and especially inspiring when the win comes from behind. And it is phenomenal when this happens when the stakes are at their highest, on a world stage, and have never been done before. With the recent events at the Winter Olympics and Paralympics, people all around the world were excited, inspired and enjoyed the phenomenon that events like this bring.
We send a very special congratulation to the USA Men's Curling Team for what they achieved in PyeongChang. Their historical win of the Gold Medal at the 2018 Olympics was exceptional and reflects their hard work, commitment and ability to perform when it matters the most.
Bo Hanson says, "Congratulations to the team, they worked so hard and deserve to enjoy every moment of the victory."
Going into the competition the USA was widely regarded as the underdog: they hadn't made an Olympic final before, had taken the second to last place finish in Sochi, and last place in Vancouver.  This time was going to be different and they were rewarded from the commitment USA Curling made after the Sochi Winter Olympics. They started a high-performance program to improve America's fortunes on the curling sheet and they did.
Of the gold-medal performance, Client Director Liz Hanson says, "seeing our clients succeed is such an unbelievable feeling. That's what it's all about, that's why we do what we do."
In case you missed it, let us catch you up on the action …
Four time Olympian and Team Captain, John Schuster held curling fans in suspense with his heart stopping performance in the gold-medal match. Facing elimination, the USA Men's Curling team defeated the favored Canadians, followed by the Swiss and then the British team to proceed to the semi-finals. Again, Shuster's team beat the Canadians to force their way into a gold medal play-off with the Swiss, who beat them resoundingly in the round-robin play, 10 – 4.

In the final showdown, the first seven ends were tight with the teams going shot for shot. In the eighth end Shuster delivered the hammer, much derided for his inability to come through in a crisis or deliver the winning shot, Shuster kept his focus, and this was his day. Shuster performed at his best when it mattered the most. His throw delivered the USA an insurmountable lead culminating in a 10 –7 victory and Olympic gold for the USA.
Liz Hanson says, "one of my favorite parts of our work is that in between the usual running of the office and working with clients, we get the opportunity to stop what we're doing and follow one of our clients when they're at a critical competition time. Whether we're huddled around the TV in the office or someone's laptop or constantly updating on a twitter feed, it is an awesome feeling to be in a small way connected to their hard work. We know how much goes into winning and aligning all of the many, many elements at the precise time is exceptional. We love it."
Where to from here…
If you've enjoyed reading this article, you may also like these:
---
At Athlete Assessments, we're experts in the people side of sport. We know sport and live high performance every day. Our reputation and proven success at the elite level speaks for itself. The results that our National, Olympic, Professional and Collegiate team clients achieve directly reflects their focus on getting the people side right.
Athlete Assessments' Team Programs have been specifically designed to maximize the people side of your team.
Achieve improved performance with better communication, relationship and conflict strategies
Get a 'blue-print' on how to coach to your athletes' specific needs
Know with confidence how to develop strong team chemistry
Team Programs include DISC Profiles, detailed Coach's Resources & Consultations
Work with a 4x Olympian with over 20 years in Coach Development & Leadership Training
Guaranteed to deliver improved performance and results
At Athlete Assessments we're here to provide you with excellence in service and to help you be your best. If there is anything we can do to be of service, don't hesitate to contact us.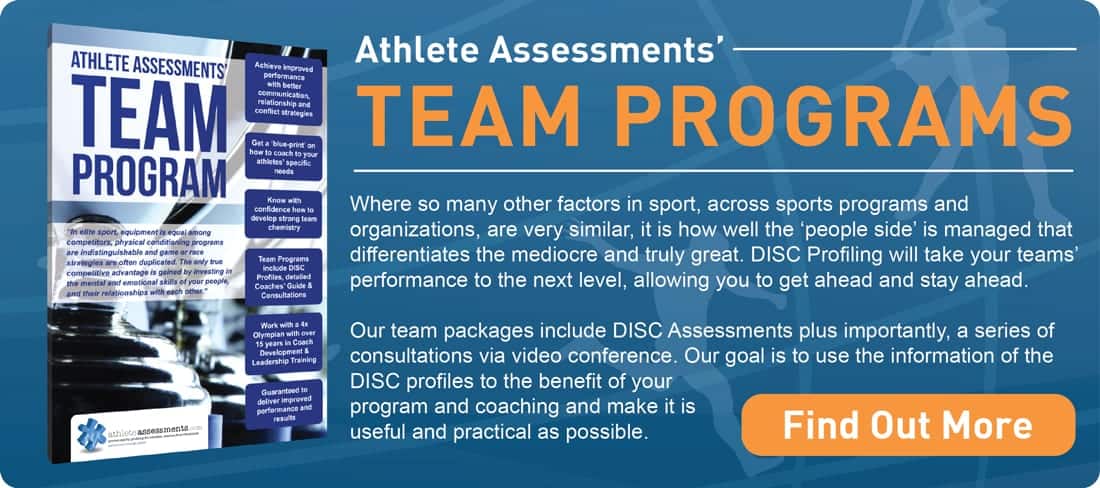 Follow Us or Share this Post: